Positions are available in a wide variety of areas at our Marine Corps Installations worldwide:
Administrative Support
Accounting
Behavioral Health
Children, Youth & Teen Services
Construction
Contracting
Finance
Fitness & Health Promotion
Food & Hospitality
Human Resources
Information & Referral
Information Technology
Libraries
Management
Marketing
Warehouse Support
Recreation
Relocation Assistance
Retail
Numerous Benefits and Privileges come with working for the Federal Government.
Stability of Federal Civilian Service
People with passion for doing work that matters
Marine Corps Exchange and Base Facility Privileges
Competitive Pay
Comprehensive Benefit Packages
Quality of Work Life Balance
Find out more…
https://benefits.usmc-mccs.org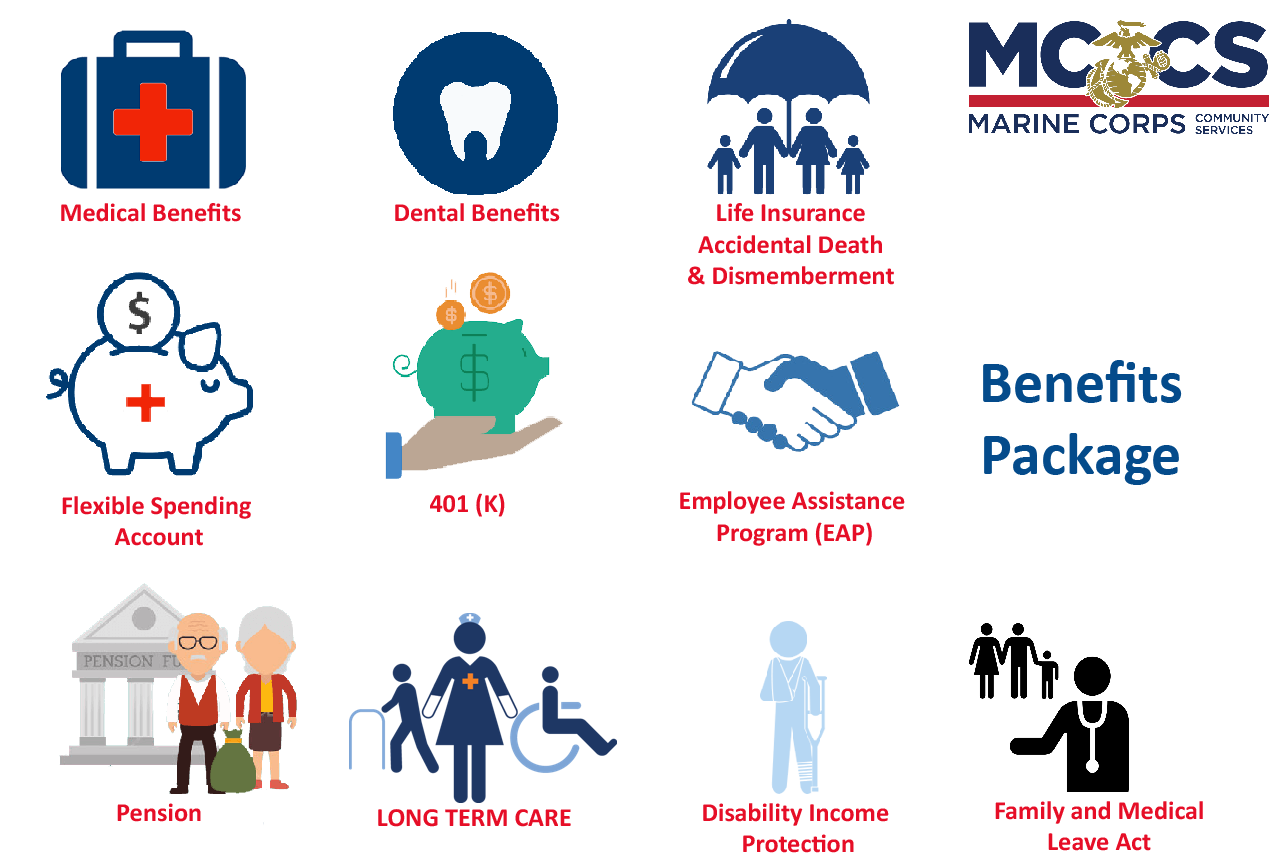 All MCCS Employees are encouraged to enjoy the use of our facilities and take advantage of a variety of employee benefits. (Facilities do vary from base to base.) Samples include:
Marine Corps Exchanges
Lodging & Dining Clubs
Childcare Facilities
Movie Theaters & Parks
Swimming Pools & Fitness Centers
Golf Courses
Bowling Centers
Marinas & Ocean Fishing
Libraries
Hobby Shops
Discount Tickets to your favorite places and Leisure Travel Deals
Flexible Schedules
Training Opportunities
Tuition Assistance at applicable commands
Balance of Work & Family Life
Employee Assistance Program (EAP)
Paid Holidays
Financial Wellness Program
All of this in a secure, fast paced, professional, family oriented, working environment.
The employee benefits package is available to all regular full time and regular part time civilian Marine Corps nonappropriated fund (NAF) employees and includes the following:
Regular Full/ Part Time:
Medical and Dental
Life insurance
Optional and Dependent Life Insurance
Accidental Death and Dismemberment
401(k) Savings Plan
Group Retirement Plan
Family Friendly Leave Program
Flexible Spending Account
Long Term Care
Short Term Disability
Leave (Sick & Vacation)
Spouse Preference Program, Transition Assistance Employment Preference, and Veterans' Priority Consideration are offered by our Organization.
Spouse Preference Program
This is a Department of Defense program instituted to lessen the adverse impact on the career paths of spouses of Active Duty Service members. The program grants eligible spouses, who are among the best qualified for positions graded NF-3 and below and equivalent hourly paid positions, a special preference in the selection process. If you are the spouse of an active duty service member ask us if you qualify for Spouse Preference.
Spouse Preference requires a copy of the active duty member's orders with the spouse's name listed. Effective 7 Oct 04, Spousal Preference applicants hired in a flexible position will not lose their spousal preference eligibility until transferred or hired into a regular Full-Time or Part-Time position.
There is no limit to the number of times spousal preference may be applied to referral and selection for non-continuing positions. Spouses may be simultaneously referred for continuing and non-continuing positions. Eligibility terminates due to acceptance or declination of an offer of a continuing Full-Time or Part-Time position.
Spouse Preference Application Form
Transition Assistance Employment Preference
This is a Department of Defense program that provides a hiring preference for military service personnel and their family members that have been affected by the downsizing of our military forces. Transitional Assistance preference applies to positions graded as NF-3 and below and equivalent hourly paid positions. If you have been affected by the military downsizing you may qualify for this special preference in the selection process. Documentation is required for proof of eligibility.
Veterans' Priority Consideration
The veterans' hiring preference laws are not applicable to Non-Appropriated Fund (NAF) employment. Veterans applying for NAF jobs may be given priority consideration at time of hire only. For purposes of this priority consideration, "veteran" shall be defined the same as the term "preference eligible" in 5 U.S. Code 2108 (3) - (4); however, this is priority consideration only and not a selection preference. To receive priority consideration, veterans must submit a copy of their DD 214 at the time of application.
PAS – Personal Assistance Services
Department of the Navy's Personal Assistance Services
As required by 29 Code of Federal Regulations (C.F.R.) § 1614.203(d)(5), a regulation implementing Section 501 of the Rehabilitation Act of 1973, as amended, federal agencies are required to provide Personal Assistance Services (PAS), in addition to reasonable accommodation, during work hours and work-related travel to employees with targeted (severe) disabilities unless doing so would impose an undue hardship. The Department of the Navy (DON) affirms its commitment to providing PAS so that employees who cannot be at work without PAS may enjoy the opportunities and benefits of employment.
PAS allow individuals to perform activities of daily living that an individual would typically perform if he or she did not have a disability, such as assistance with removing and putting on clothing, eating, and using the restroom.
The procedures outlined below are to be used when a DON employee makes a request for PAS. Requests for reasonable accommodation (RA) and PAS can be made simultaneously, but must be processed separately using appropriate procedures.
---
EEO Policy Statement Commandant of the USMC
Anti-Harassment Policy Commandant of the USMC
Diversity and Inclusion Policy Commandant of the USMC
EEO Policy Statement Department of the Navy
---